Cairn International Trade Centre Meeting Facilities Upgrade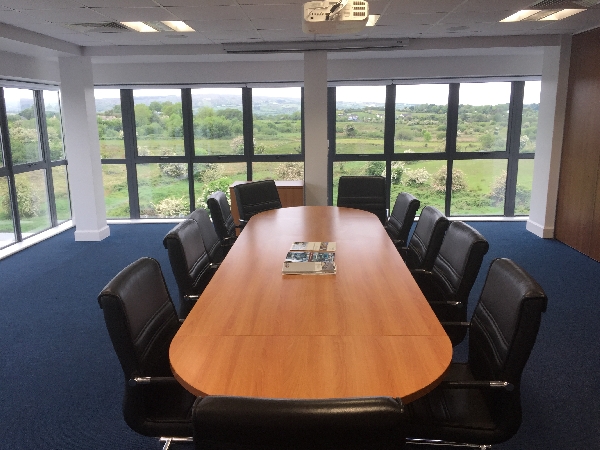 We have just completed an upgrade of the Conference Suites 2 and 3, that our Facility Users in the Cairn International Trade Centre have access to.
This upgrade includes:
- Full HD Projectors
- Motorised 100 inch screens
- Audio Speakers and Amplifiers
- Blackout Blinds
- Boardroom Tables and High Quality Leather Chairs
- Access to high speed fibre based broadband - up to 100 Mbit.
We can't claim any credit for it, but these rooms with their floor to ceiling windows, also have an outstanding view over the surrounding countryside.
Have a look at some of the pictures of these 2 rooms below.
Our facility users have access to these facilities for free.
Both rooms are fully Air Conditioned and Conference Suite 3 has the benefit of a Kitchen area suitable for catering for an event.
A demountable partition between the two Suites facilitate them being used as one larger area for larger gatherings that our clients may wish to organise.
They really do make an impression of Facility Users and their customer, suppliers and visitors alike.
We have just 5 Suites remaining to let in the Cairn International Trade Centre. Maybe now is the time to consider if your business and employees should be located here with space available at just €6.00 per sq. ft. per year including 100MBit fibre broadband and of course, a time allocation in our fabulous state of the art meeting rooms.

More details in our facebook post here.....